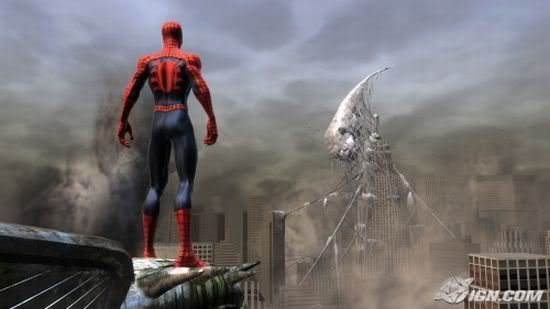 The Spider-Man: Web of Shadows video game will be coming out tomorrow (October 22).
The game will come in three versions, a full-3D action game for Xbox 360, PlayStation 3, Microsoft Windows, and Wii, a 2.5D sidescrolling action game for PlayStation Portable, and a 2.5D side-scroller for the Nintendo DS.
It looks like they've covered all the bases with this release.
GAME PREVIEW: "Spider-Man: Web of Shadows"
by Erik Amaya, Contributing Writer
"Spider-Man: Web of Shadows," the new action game from Activision developed by Shaba / Treyarch and based on the Marvel Comics superhero, is scheduled for release October 22. Last week, CBR News got a hands-on first look at the game, which will be available on most console platforms, Nintendo DS and PC.
Like "The Incredible Hulk" released earlier this year as well as previous Spider-Man games, "Web of Shadows" continues the tradition of free-roaming action around an eight-square mile chunk of Manhattan. Missions are accessible at player's discretion, and roaming mobs allow for a quick fight. Also, being a Spider-Man game, traveling around town is best accomplished with web slinging. Shaba's mission statement in this game: take fluidity of motion and bring it to an action game.
http://www.comicbookresources.com/?page=article&id=18309